"All guests are to be welcomed as Christ, for he himself will say: I was a stranger and you welcomed me (Matt 25:35). Proper honor must be shown to all." RB 53.1-2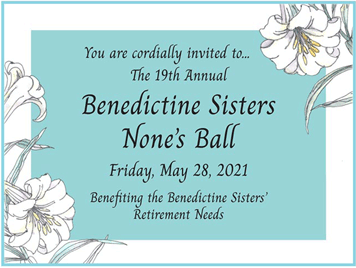 Learn more about the None's Ball here.

Donate online or donate by mail.
H

ospitality in the time of COVID-19
Benedictines hold as one of their most precious values Hospitality. It is with deep regret and a sense of sadness that we cannot welcome visitors during the pandemic. Our Monastery remains closed to the public.  Click Learn More to read about actions we are taking to protect against the infection and spread of the COVID-19 virus.
Mission Statement
We are called to seek God in community and to respond in ministry through sharing our spirituality and addressing the needs of the people we serve, especially the poor.

We invite you to join our mailing list. We'd love to stay in touch. Click here to join our mailing list and receive occasional thoughtful correspondence via email or in print.