Established in 1998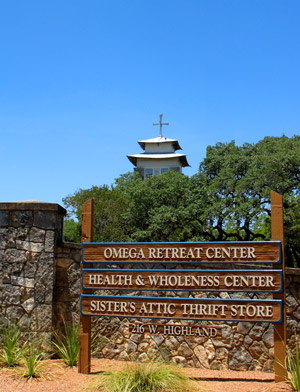 Established in 1998, Benedictine Ministries is a separate 501(c)3 Catholic charitable organization. It includes an Administration Department, the Omega Retreat Center, the Health and Wholeness Center, and the Sisters' Attic Thrift Store. Offices and facilities are located on the Benedictine grounds in Boerne, Texas. These centers and their programs play a vital role in the faith community by serving the spiritual, emotional, and physical health needs of more than 3,500 individuals annually in south Texas.
The Omega Retreat Center
The Omega Retreat Center opened in 1982 as a Christian retreat and spirituality center. On average, more than 3,000 individuals use the Center each year. Over 75% of these participants are from Parishes within the Archdiocese of San Antonio. Overnight spiritual experiences including ACTS Retreats, Emmaus Walks, and private retreats are conducted year round. The facility is also used for day retreats and workshops related to prayer, healing and wholeness, and Benedictine Spirituality. The first ACTS Retreat was held at the Center in 1987. Prior to becoming the Omega Retreat Center, the facility served as the dormitory for St. Albert Hall and the residence for the professed Sisters and young women in discernment.
The Health and Wholeness Center
The Health and Wholeness Center (HWC) opened in 1990 as a "home away from home" for senior citizens in the Texas Hill Country. The Center is located near downtown Boerne on the grounds of the Benedictine Sisters. The Health and Wholeness Center serves seniors 50 years and older.
The Center provides a variety of activities Monday through Friday. These activities are specially designed to meet the Center's members' physical, spiritual, and emotional health needs. Seniors enjoy water aerobics and health and wellness classes to strengthen and heal their bodies; various arts and crafts classes to stimulate their creativity; day trips to surrounding points of interest to broaden their cultural horizons; social events and support groups to nurture their emotional health; and spirituality classes to nourish their souls.
Water Aerobics, the most popular program, is invaluable because it allows seniors to exercise in a less strenuous environment than most "on land" exercise programs. Many participants experience increased flexibility and mobility as well as a reduction in pain that is associated with arthritis, multiple sclerosis, and back and joint problems. Aqua Zumba classes and Noodle Aerobics classes have also been added to create a variety of water exercise choices. Individuals of any age, with a Doctor's written recommendation, are invited to participate in the water aerobics program.
The success of the Health and Wholeness Center is due in part to its philosophy for volunteerism which embraces a theme of "seniors serving seniors". More than 50 members volunteer throughout the year at the Center in various capacities including program leadership and grounds beautification. Since it first began over two decades ago, membership and participation at the Health and Wholeness Center has grown each year. Membership retention has also proven the value of the Center and its many programs.
Sisters' Attic Thrift Store
The Sisters' Attic is open Monday through Saturday from 10 am – 4 pm. Donations of good, clean clothing and household items, including small appliances in working condition are greatly needed and are accepted during business hours only. The thrift store relies on the local community for all donations and sales, so please come by to donate or shop.
For More Information
For more information about the Omega Retreat Center, the Health and Wholeness Center, and/or the Sisters' Attic, please call (830) 816-8470 or visit www.benedictineministries.org