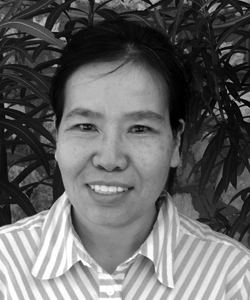 The journey to Religious life for Sister Chon Nguyen, OSB began in Vietnam. The fifth of seven children, she faithfully attended Catholic Church in her native homeland. In 1995, she, her parents, and four siblings moved to Garland, Texas to begin a new life. Remaining devoted to her faith, Chon became active in two parishes in Garland – Our Lady of Perpetual Help Vietnamese Parish and St. Joseph Catholic Church, often making 2 visits a day to pray and worship.
Over a twenty-year period (1995-2015), the call from God became stronger and clearer to her. Chon's favorite scripture is from John 21:17 and reflects her deepened calling, "… Lord, you know everything; you know that I love you." In late 2015, after listening to the Spirit within and researching Religious communities in Texas, Chon contacted the Benedictine Sisters of Boerne to tell them of her interest in visiting the community. It was not until after the Sisters moved into their new St. Scholastica Monastery in the fall of 2016 that Chon came for a visit, experiencing the Benedictine way of life firsthand. Chon was attracted to this way of life in community and she came to live with the Sisters on December 30, 2018. Chon became a postulant on June 13, 2019 and entered the novitiate on January 18, 2020.
Sister Chon made her first Profession on January 16, 2021.