Announcing our Prioress Elect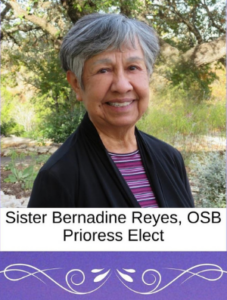 On November 21, 2021, the Benedictine Sisters of St. Scholastica Monastery in Boerne, Texas elected Sister Bernadine Reyes, OSB as our Prioress. Sister Bernadine, who held the position of Prioress from 2001-2018, succeeds Sister Frances Briseño, OSB who suffered a stroke in March 2021.
For the past two years, Sister Bernadine has served as Director of Ministries and as a member of the Sisters' Formation Team. She currently serves on the Sam's Kids Board in Boerne.
Sister Sylvia Ahr, OSB, who was appointed the community's Administrator in April 2021, will remain Administrator until Sister Bernadine is officially installed as Prioress in early 2022.
Sister Elaine Fischer, OSB of Mt. St. Scholastica Monastery in Atchison, Kansas served as the election discernment facilitator. Sister Lynn McKenzie, OSB of the Benedictine Sisters of Cullman, Alabama and President of the Federation of St. Scholastica presided at the canonical election.