Retreat and Spirituality Center
Omega Retreat Center provides a quiet place away from the distractions of daily life. Our Mission is to provide opportunities to people from all walks of life to experience Benedictine Spirituality and Hospitality.
We here at Omega work hard to create a hospitable environment and hold a space in which our guests and retreatants can see and act on the movement of The Spirit. Our staff is excited about the possible opportunity to host your retreat.
Omega Retreat Center is located in the beautiful Texas Hill Country on the grounds of the Benedictine Sisters' Monastery in Boerne, Texas. The Center welcomes more than 3,000 individuals each year. With over 20 acres, we invite our retreatants 18 years of age and older to come rest, walk, and renew. We can accommodate up to 70 retreatants. Grounds Map for Retreat Groups (pdf)
Planning your retreat
Omega Retreat Center offers facilities for day or overnight retreat experiences. We know that a big part of planning your retreat is seeing the grounds and the facilities.  Click here to view a brochure about our facilities (pdf)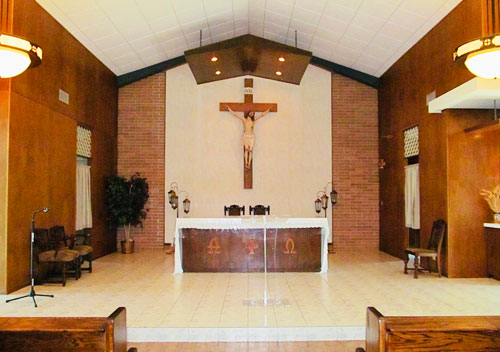 Schedule a tour
We invite you to schedule a tour through our Retreat Center's Office to come and take in the beauty of Omega Center.  One 45-minute tour is allotted per retreat team and should be scheduled a minimum of two weeks in advance of your retreat.
Retreatant fees include meals for the length of stay. These fees can be adjusted for groups who are not in need of meals from our Omega Kitchen.
It is our hope that your experience at Omega is fruitful and enriching.
…come rest, walk, and renew…
I/we would like to support Omega.
For More Information
Office hours:  Monday – Friday, 9 a.m. – 4 p.m. (Closed from 12 – 1 p.m. for Prayer & Lunch)
Call:   (830) 816-8470, Melynda Weilbacher, Manager
Did you know?
The Omega Retreat Center opened in 1982 as a Christian retreat and spirituality center.
Overnight spiritual experiences including ACTS Retreats, Emmaus Walks, and private retreats are conducted year round.
The facility is also used for day retreats and workshops related to prayer, healing and wholeness, and Benedictine Spirituality.
The first ACTS Retreat was held at the Center in 1987.
Prior to becoming the Omega Retreat Center, the facility served as the dormitory for St. Albert Hall and the residence for the professed Sisters and young women in discernment.
Spiritual Direction
For more information about spiritual direction,
click the image below.

Read about Spiritual Direction at Omega (pdf)
Contact us about
Omega Retreat Center
(Note: * are required fields)