The Benedictine Sisters' journey began on the Isle of Pines in Cuba.  And today they find themselves in Boerne, TX. Reflecting on the journey that finally brought them to Boerne, the courage, strength and incredible faith that the early Sisters exhibited is amazing. The community has been built on incredible and courageous women who, even though they faced significant struggles, always took the long view, always listened to the Spirit's invitation to move forward and discover the new surprises God had in store for them.  "Remember not the events of the past, the things of long ago consider not; see I am doing something new! Now it springs forth, do you not perceive it?" (Isaiah 43:18-19)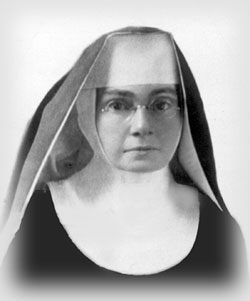 In 1911, Mother Lidwina and three other Sisters made their way from St. Mary's, Pennsylvania to the Isle of Pines in Cuba. Mother Lidwina made this trip to fulfill a promise she made to God. She had been very sick, and she promised if she would receive a cure, she would give her life to missionary work. Her community was not supportive of this new venture and in their farewell told her that if this new endeavor did not work out, she would not be allowed to return.
The Sisters were in Cuba for only 8 years. A variety of circumstances, plus a hurricane that devastated their school and convent made it impossible for them to stay and so they traveled to south Texas, believing that God would provide for the next step in their journey. Their ministry of education in the Archdiocese began in Loire and Las Gallinas Texas. Mother Lidwina died in 1920. She left the community a message that is as profound now as it was then: "How much and yet how little we have accomplished in this space of time, but after sowing the seed we must wait some time for it to germinate. So, I console myself and await the future." With that message, the Sisters were renewed in spirit and moved forward with a newfound hope.
They faced incredible odds in those early years in Texas, but in the mid 1920's they were invited to work at St. Vincent Home for the Poor and Aged. With no experience in health care, but with a profound sense of mission and knowing God would provide, they moved the Motherhouse from Las Gallinas to San Antonio and began a ministry of caregiving. God indeed blessed them in this effort, and years later they built one of the largest nursing homes in Texas and a small hospital.
Their history reflects Mother's Lidwina's words of planting seeds, taking the long view and waiting for those seeds to germinate. Even though they have always been a small group of monastics, God has provided large endeavors for them and they have had the privilege of planting seeds. Unlike their foundress, they have actually seen the fruition of many of those seeds. Listening to the signs of the time, listening for God's invitation, the Sisters expanded their ministries through the years.
With only three Sisters, and a reprimand from her Prioress, Mother Lidwina never looked back. Her focus was always on the God who called her into a "future full of hope." Jeremiah 29:11. The Benedictine Sisters of Boerne have honored her memory every time they have faced challenging times. In the 90s, when it became impossible for them to sustain some of their ministries because they didn't have enough Sisters, they entrusted their lay co-ministers with those ministries. This freed them to become their own 501(c) (3)s and continue the Sisters' legacy and their spirituality. Those ministries that spun off (Every Texan – Formerly the Center for Public Policy Priorities, P.E.A.C.E. Initiative – Putting an End to Abuse Through Community Efforts, JOVEN – Juvenile Outreach Vocational Educational Network) continue today, stronger and reaching far more people in need than the Sisters could have ever imagined.
The Sisters' legacy is also built upon their work in Boerne, Eagle Pass, and San Antonio, Texas. Their ministries, The Omega Retreat Center, The Health and Wholeness Center, the Sisters' Attic, Caridad de Corazón, and Corporate Responsibility continue to address the spiritual, health, community, immigration, and peace & justice needs of the people served, especially the poor.
The challenge the Sisters face now is not unlike the challenge their Sisters faced in the 1920s. They know that God provided for them then and will do so again.  And so, with Mother Lidwina's words in their heart, they continue to garden. The seeds they are planting now are a new kind of seed for this time in their history. They are taking the long view again and know that although they will wait for them to germinate, they, like Mother Lidwina, will probably not see the fruit of their labor. However, they know that their future is full of hope, as it has always been. It is a difficult time for the Sisters, but their foundress and the small community that came from Cuba faced much greater odds. They forged ahead with faith, trust and quite a bit of hutzpah!
May the God who called their ancestors, Sarah, Deborah, Mariam, Ruth, Mary, Elizabeth, Mary Magdalene, Teresa of Avila, Julian of Norwich, Hildegarde of Begin, Catherine of Siena, Benedicta Riepp, Harriet Tubman, Rosa Parks, Mother Lidwina and so many other strong and vibrant women continue to call the Sisters to the possibilities that await them in the future!
They will continue planting seeds.