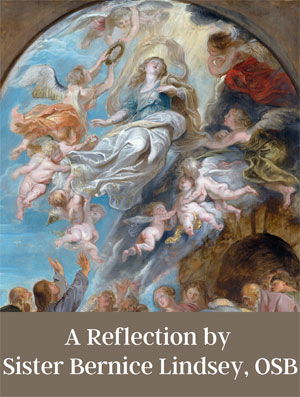 by Sister Bernice Lindsey, OSB
Well, here we are in the month of August, the 8th month of the year. Very soon vacations at the beach and by the pool side will be coming to an end as we prepare to enter the Fall of 2021.
The Gospel readings for the Sundays of August are taken from St. John, St. Luke and St. Mark's Gospels and are from Year B, Cycle 1.
August 1st – 18th Sunday of Ordinary Time
Gospel: John 6:24-35 – Jesus said in this Gospel, "I am the Bread of Life, whoever comes to me will never hunger, and whoever believes in me will never thirst."
August 8th – 19th Sunday of Ordinary Time
Gospel: John 6:41-51 – "I am the living bread that came down from heaven, whoever eats this bread will live forever, and the bread that I will give is my flesh for the life of the world."
August 15th – The Assumption
Gospel: Luke 1:39-56 – Today's feast celebrates Mary's Assumption into heaven.  It is one of the three feasts of Mary that are Holy Days of Obligation for Catholics in the United States. The others are January 1st – the Feast of Mary, the Mother of God; and December 8th – the Feast of the Immaculate Conception of Mary.
The Assumption of the Blessed Virgin Mary into heaven has long been held as an important belief. The belief was not defined as dogma however, until 1950 by Pope Pius XII. The dogma teaches that Mary, who was without sin, was taken, body and soul, into the glory of heaven.
The Gospel for this holy day recalls Mary's actions after the announcement of Jesus' birth by the Angel Gabriel. Mary goes to visit her cousin Elizabeth who is also with child. Elizabeth greets Mary with full recognition of the roles they and their unborn children will play in God's plan for salvation. Mary responds to Elizabeth's greeting with her song of praise, the Magnificat. Both women recall and echo God's history of showing favor upon the people of Israel. Mary's Magnificat echoes the song of praise offered by Hannah, the mother of Samuel.
The Gospel for this day reminds us that Mary's Assumption into heaven is best understood with regard for the full spectrum of Catholic beliefs about the person of Christ and the person of Mary. Mary was born without stain of original sin – the Immaculate Conception. Because of Mary's role in God's plan of salvation, she does not suffer from the effects of sin, which are death and decay. Mary is the first to receive the fullness of the redemption that her Son has won for all of humanity. The Church, therefore, recognizes Mary as the sign of salvation promised to all.
This Gospel highlights Mary's faith. Her faith enabled her to recognize the work of God in her people's history and in her own life. Her openness to God allowed God to work through her so that salvation might come to all. Mary is a model and symbol of the Church. May we be like Mary, open and cooperative in God's plan of salvation.
August 22th – 21nd Sunday of Ordinary Time
Gospel: John 60-69 – Jesus knew which of his disciples would not believe, and which one would betray him. He said, "For this reason I have told you that no one can come to me unless it is granted by my Father." Many disciples returned to their former way of life, and the Twelve remained.
August 29th – 22nd Sunday of Ordinary Time
Gospel: Mark 7:1-8, 14-15, 21-22 – Jesus admonishes the Pharisees after they observed that some of His disciples ate their meals with unclean, unwashed hands and questioned Him about this.
Other main feasts in the month of August are:
August 1 – St. Alphonsus Liguori–Memorial
August 2 – St. Eusebius of Vercelli–Memorial
St. Peter Julian Eymard–Memorial
August 4 – St. John Mary Vianney–Memorial
August 5 – Dedication of St. Mary Major–Memorial
August 6 – Transfiguration of the Lord–Feast
August 7 – St. Sixtus II and Companions–Memorial
St. Cajetan–Memorial       
August 8 – St. Dominic–Memorial
August 9 – St. Teresa Benedicta–Memorial
August 10 – St. Lawrence–Feast
August 11 – St. Clare–Memorial
August 12 – St. Jane Frances de Chantal–Memorial
August 13 – St. Pontian–Memorial
St. Hippolytus–Memorial
August 14 – St. Maximilian Kolbe–Memorial
August 19 – St. John Eudes–Memorial
St. Bernard Tolomei–Memorial
August 20 – St. Bernard–Memorial
August 21 – St. Pius X–Memorial
August 22 – The Queenship of Mary–Memorial
August 23 – St. Rose of Lima–Feast
August 24 – St. Bartholomew, Apostle–Feast
August 25 – St. Louis of France–Memorial
St. Joseph Calasanz–Memorial
August 27 – St. Monica–Memorial
August 28 – St. Augustine–Memorial
August 29 – Martyrdom of St. John the Baptist–Memorial
NOTE:  The feast of St. Alphonsus Liguori on Aug. 1st; St. Dominic on Aug. 8th; the Queenship of Mary on Aug. 22nd and the Martyrdom of St. John the Baptist on Aug. 29th all fall on a Sunday, so they are superseded by the Sunday Liturgy and the Liturgy of the Assumption.
The Church celebrates some saint days as Feast days while others are Memorials. You're invited to learn more about these saints, click here, or research on your own as you choose.