September 2022 – A Reflection by Sister Antoinette Van Galen, OSB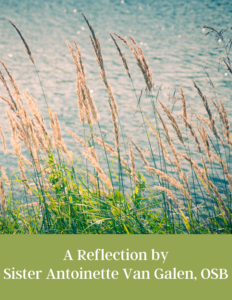 Reflecting on the Sunday Gospels for September, the reading for September 11th called to me. We are certainly familiar with the parable of The Prodigal Son. It conveys God's love for all of us, His children. God's love is unconditional, equally loving to the faithful and the lost.
After the younger son requested "his share of the estate" he fractured the family and went off to a distant country, squandering his resources. A severe famine came, and he became very hungry. And the younger son recalled there was an abundance of food in his father's household, no one lacked, not even the hired hands. The younger son went back home prepared to say, "Father I have sinned against heaven and before you; I am no longer worthy to be called your son."
And the son was greeted by his father with great compassion! The reunion was one of welcoming, love, and affection. The son was clothed with the best robe, sandals, and a ring. And a feast was prepared in celebration of the son's return. The father was overwhelmed with joy, saying "He was lost and is found!"
When the elder son was finished working in the field, as he did so dutifully for many years, he came upon the sounds of joyous celebration and asked what the occasion was. He was understandably upset and refused to participate in the celebration. Imagine how he must have felt. He said to his father, "For all these years I have been working like a slave for you, and I have never disobeyed your command; yet you have never given me even a young goat so that I might celebrate with my friends. But… you killed the fatted calf for him!"
The father lovingly responds, indicating that all of the elements of the estate belong to the older son. Jesus does not finish the story. We are not told if the elder son joins in the feast.
It is a parable that easily engages us. It is relatable with talk of everyday life – family, relationships, home, food, work, fairness, justice, and an array of feelings. It is comforting to know that if we wander off course or squander the gifts we have been given, when we return with a penitent heart, the love of our Heavenly Father is abundant and we will be welcomed back home wholeheartedly by Jesus.