Sister Mary Rose Goertz, OSB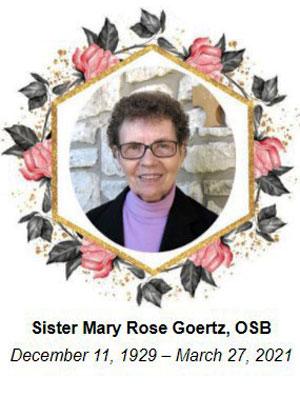 Sister Mary Rose (religious name Walburga) Goertz, OSB, 91, a Benedictine Sister of Boerne, passed away peacefully at St. Scholastica Monastery in Boerne, TX on March 27, 2021. She was born in Red Rock, Texas on December 11, 1929, one of twelve children. She learned values from her parents who taught love, not by what they said, but through their actions.
Sister attended Sacred Heart Church and School in Rockne where the Benedictine Sisters taught. She was drawn to the Benedictine community and after graduating from high school, she entered religious life with Benedictine Sisters in 1946. Sister made her monastic profession on January 6, 1952.
Sister Mary Rose received her bachelor's degree in education and teacher certification from Incarnate Word. She later studied to be a dietitian at Our Lady of the Lake. Sister always had a great love of working with children, and she spent 8 years as an elementary and middle school teacher. She also served as dietitian for the Sisters' Hospital in San Antonio after completing an internship at Charity Hospital in New Orleans. Sister served for numerous years as Prioress and Sub-Prioress of her Boerne Benedictine Community. In 1989, she began working at the Omega Retreat Center in Boerne, first in the office, and then as Food Service Manager. She served at Omega for nearly 30 years.
Sister Mary Rose will be remembered for her genuine welcoming presence, her delightful sense of humor, and her love for Christ. The Benedictine Sisters wish to thank her caregivers and Alamo Hospice for their compassionate care.
Sister Mary Rose was preceded in death by her parents, Rudolph and Hettie Goertz; by sisters, Helen Frerich (Sonny (d)), Ann Bib (Jim (d)), Irene Goertz (Martin (d)), Sister Lucille (Mary Aloysia) Goertz, OSB; and by her brothers, Rev. Alois Goertz, and Mark Goertz. She is survived by her community of Benedictine Sisters; her sisters, Bernadette Beck (Gerald (d)), and Marcella Muehr (Roger); brothers, Rev. Victor Goertz, Elmer (Edith (d)) Goertz, William (Patsy) Goertz; sister-in-law, Barbara Goertz; and numerous nieces, nephews and extended family.
Private services were held on the Benedictine Sisters' grounds on Wednesday, March 31, 2021.
Memorials may be made to the Benedictine Sisters, 216 W. Highland Dr., Boerne, TX 78006, or made online using the Donate link above.